Hardwood Floors in Goldsboro, NC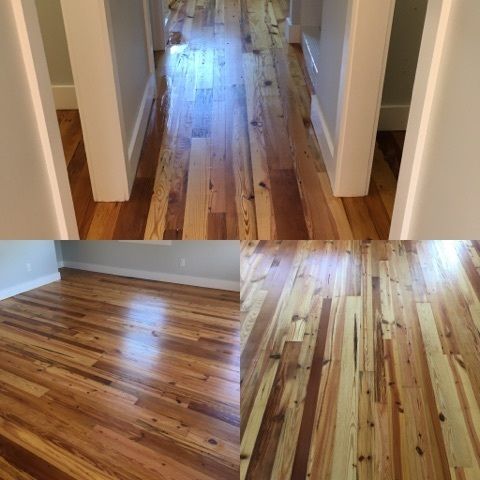 When it comes to sanding wood floors and refinishing hardwood floors, the professionals at 2 Brothers Hardwood Floors are experts with over 30 years of combined experience.

2 Brothers Hardwood Floors uses only the highest-quality floor stain and finish to maximize its natural beauty. You won't recognize your old floor once we've worked our magic and brought it back to life.

Call us if you need refinished hardwood floors!
2 Brothers Hardwood Floors did an amazing job repairing my damaged hardwood floors. They are very dependable, respectful, and very meticulous. It was a great experience with even better results. I would recommend them with no problem.
— Brittany B., Google Review
Very pleased with the refinishing work these guys did for us on three of our upstairs bedrooms as well as the staircase. They not only do great work, but they also communicate clearly. I highly recommend Two Brothers for all your wood floor needs.
 

The crew of 2 Brothers Hardwood Floors are knowledgeable, prompt, hardworking, and courteous! Great set of guys. You won't be disappointed when you choose 2 Brothers Hardwood Floors!!
 

They did a nice job. They were able to provide options to fit our budget too. We shopped four different contractors and are glad we went with them!
These guys work very hard to have such knowledge in the hardwood floor business. I have been in the flooring business for over 18 years and if i need someone to sand and finish or anything in flooring, these are the guys for me.They are welcomed in my home at anytime.
I can't say enough positive things about this company! They are outstanding in every single way. Their work is impeccable and their customer service is amazing! Thanks for a job very, very well done!
 

A great job, very well done. I wish everybody I've hired would work as hard as these guys. They are trustworthy and went beyond my expectations. I highly recommend this company.
I highly recommend 2 Brothers hardwood floors for your next project. I promise you won't be disappointed. Love my flooring and quality of their work. My house was impeccable after they finished their work. Great job guys !!!
I had a floor project in the works for over 2 years and went to various floor stores in New Bern. No one could help me with my questions and I had to find carpenters to do "the work" because the "floor stores" no longer had carpenters and their schedules where backlogged. So annoying and unprofessional. Then we saw the 2 Brothers Hardwood Floors in our neighborhood working on a new house. I called and got an immediate response with an appointment the next day! I was shocked and relieved that someone really wanted to work! Jose and his team did an awesome job on my floor/ceiling remodel, and everything turned out beautiful! His team was professional, prompt, and very accommodating. They worked with us through the "live in" remodel with 3 kids, 3 dogs, a painter, and house cleaner. It was organized chaos, but they completed the remodel in no time without rushing and the end product is amazing. I could not have asked for a better group of guys with strong work ethics, and the willingness to make it right if it was not. 5 stars all around!
Schedule Your Flooring Installation Estimate! 
Fill out the form below to schedule today! If you don't hear back from our friendly staff within two (2) business days please call 919.922.1451 or 919.922.4626
Thank you and we look forward to being of service!